Beyond the Uniform Approach – P/Strada maximizes the advantages of global business
STORY BY TIESHA MILLER
Patrice Manuel took a gamble when she began P/Strada, a management consulting firm, from her home as the CEO and lone employee. But by narrowing her focus on operations that could most benefit from her specialties, a decade later she's operating a 59-employee company with its main office in Kansas City's midtown and a client list that spans the United States.
"I think the first year, when you say you're a home-based business, people don't think you have skin in the game, that you're fly by night," Manuel says. "You have to be aware of that perception [and] know where the capital is and that you're going to have to be in debt to be able to grow."
P/Strada helps companies maximize their leaders' talent and capabilities; its main clients are based in federal, state and local governments. The remaining 25 percent are commercial companies.
The strong government representation is no coincidence. After 20 years in the Army, Manuel understands the intricacies—and downfalls—of bureaucracies. Near the end of her service, she put her background in chemistry to use as a project manager in advanced technology in a battle lab…
Read the entire article which was published in the KCB magazine by clicking here.
A video for P/Strada for the September issue of MBEConnect Profiles magazine.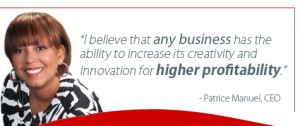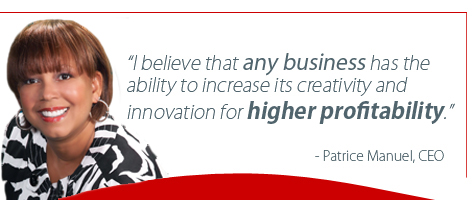 Patrice Manuel featured in the online magazine: "A Veteran of Entrepreneurship"
The Suit Magazine – Read the full article here: http://www.thesuitmagazine.com/top-stories/21652-a-veteran-of-entrepreneurship.html
In 2010, President Barack Obama announced the National Export Initiative—a plan to strengthen small businesses and double U.S. exports by the year 2014. Patrice Manuel, CEO of P/Strada, is stepping up to assist our country in making that change.
"Only one percent of small businesses work overseas," explained Manuel. "So we're looking at creating manufacturing facilities in the United States. Some larger companies brought some of their manufacturing here and created jobs, and I believe we can successfully do the same with smaller businesses."