Based in Kansas City for over 15 years, P/Strada provides program and project management in almost any environment and enterprise.
Bring Your Team to Top Speed
Enroll in Our E-Learning Courses
P/Strada offers online training to help organizations equip
their managers and supervisors with the tools they need to succeed.
Training, Coaching & Assessments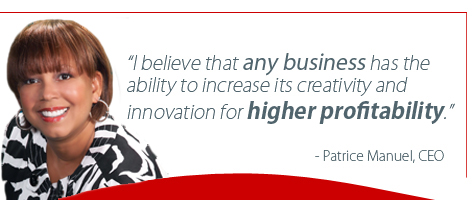 Founded by CEO and Senior Principal Patrice Manuel in 2001, P/Strada's foundation is the result of Ms. Manuel's wide ranging experience managing complex challenges throughout the world over a 20-year period as a U.S. Army officer. Ms. Manuel is a certified project management professional with a master's degree in administration and a doctorate ABD in Organizational Development and Leadership. Her combination of experience and education has prepared her to create a team of like-minded professionals who provide successful solutions in the area of professional and organizational development, project management, advanced technology, modeling and simulation, Government Contracting issues, measurable management, logistics and system planning, and research and development.
Vision Statement
A leader providing quality products and services to our customers, partners, and community in a global market.
Mission Statement
A growth company providing the highest quality professional services in project management, acquisition management, training and coaching, and management consulting to our customers, partners and community.
Value Statement
P/Strada LLC is
A reputable industry leader committed to the stewardship of resources and responsibilities.
A company of integrity that strives for excellence-we "get it right" the first time.
Committed to H·I·T – Honesty, Integrity, Timeliness.
P/Strada provides project management services in the following areas:
Acquisitions
Telecommunications
Staff Augmentation
Training and Management Consulting
Additionally, P/Strada provides based project management in Organizational Development, Diversity Integration, and Homeland Security as well as project management in Commercial/Government furniture sales and "Green Initiative" Electronic/Electric Waste recycling with a zero landfill initiative and other greening initiatives.
Furniture

P/Strada has the ability to service all of your organizations furniture needs from design to installation. We have aligned ourselves with many numerous companies that manufacture in the USA and Canada. We can invoice via WAWF and our GSA number is GS-10F-0339S. Our customer list includes the following installations:
Ft Leonard Wood, MO
AR Army National Guard
MO Dept of Transportation
Ft Sill, OK
Ft. Lewis, WA
Ft. Leavenworth, KS
VA Regional Office, Muskogee, OK
Specializing in organizational development, structure and processes that assist organizations and individuals in achieving higher and greater success in their current/expanding environments. Assist individuals in growth by coaching them in management, business skills, ethics, straight talk and life boat theory.
P/Strada provides the following services to meet your corporate needs:
Strategic Planning
Leadership Development
Team Development
Supervisor Development
Organizational Development
Diversity training
Online Courses
Additionally, P/Strada utilizes the following assessment tools that leverage your employees' diverse learning skills and thinking styles to enhance competitive and superior performance:
DISC
360 Survey
Brain Mode Power/Pathway
Climate Survey
P/Strada provides a multitude of education and training options. From basic office skills to advanced professional skills, P/Strada provides and manages educational platforms for blended, face-to-face, instructional, online and web-based training. This includes but not limited to mentoring, coaching, training, consulting, and leadership development.  We conduct regular training and refresher courses for the above groups to include but not limited to:
Mentoring
Consulting
Training
Coaching
Leadership Development
Additionally, P/Strada provides skills development programs in leadership and entrepreneurship and the development of human capital.
Collaboration and Partnerships
P/Strada collaborates and partners with other similar organizations involved in government, entrepreneurship community, community-based enterprise, educational organizations, institutions and active networks of the above community. From local to global, P/Strada knows collaborative partnerships are keys to the development of the most qualified and knowledge workforce in a global business community.
P/Strada, LLC is a Kansas City, Missouri based company that has experienced steady growth over its 10 year history. The growth can be attributed to its diverse capabilities born from a professional services perspective. Specifically, P/Strada provides program and project management in almost any environment and enterprise. Telecommunications is one of our newest specialties providing design, implementation and testing services. P/Strada provides acquisition management from large volume furniture purchases to microwave relay tower parts and everything in between. We also provide staff augmentation primarily for various government agencies (i.e. Homeland Security, Army, GSA, etc.). We can supply administrative personnel through very specialized top secret military requirements.
P/Strada has an extensive training and management consulting capability as well. We can provide training and consulting in areas such as: Organizational Development-specializing in organizational structure and processes that assist organizations and individuals in achieving higher and greater success in their current environment; Diversity Integration- assisting government agencies and private companies in the achievement and reporting of minority and women owned business participation goals on projects and providing diversity training for compliance, along with over 400 prepackaged courses. P/Strada's training can be delivered in a blended learning environment from the traditional instructor / classroom approach to a total virtual classroom provided via a Cloud computing solution. P/Strada can also provide e-Waste solutions to help get rid of unwanted electronic e-waste utilizing waste recycling techniques that comply with the EPA Zero Waste Landfill Initiative.