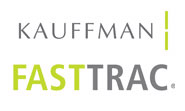 About P/Strada LLC, an Affiliate of Kauffman FastTrac®.
To check for an upcoming course, visit our affiliate site at http://pstrada.affiliate.fasttrac.org.
For archived presentations and information about upcoming authors, go to www.fasttrac.org/authors.
There is more to being "in business". It's about "learning your business"; and P/Strada's Kauffman FastTrac® facilitators will assist you, the entrepreneur, in learning your business. From concept to a final business plan and exit strategy, this internationally renowned Kauffman FastTrac® 10-week, 5-week, 5-day, or 4-hour courses will walk entrepreneurs through a step-by-step process of learning their businesses or determining rather to take your business to the next level.
P/Strada has developed a team of facilitators who each have more than 30 years of academic and professional experience and are committed to serving the entrepreneurial community.  If you have a business concept and want guidance and assistance in determining how to move forward, enroll in the Kauffman FastTrac® NewVentureTM course.  If you are already in business and want to go to the next level, enroll in the Kauffman FastTrac® Listen To Your BusinessTM course as well as the Kauffman FastTrac®  GrowthVentureTMcourse.  Whatever your business level, P/Strada can assist you in improving your business.
P/Strada, LLC is a Kansas City, Missouri based Organizational Development, Diversity Integration, and Project Management Consulting Business focused on providing exceptional client support. We specialize in developing structure and processes that assist organizations and individuals in achieving their highest potential and great success in their business.